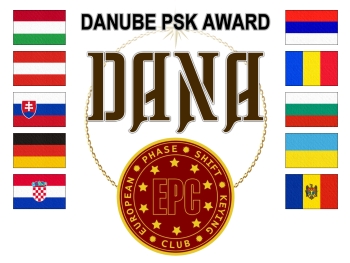 The Danube PSK Award Series (DANA) was devised by the European PSK Club (EPC) on 5th June 2008. This was to sponsor a series of PSK awards for contacts with EPC members from various Danubian EU Areas. The Danube is the longest river in the European Union and Europe's second longest river after the Volga. The river originates in the Black Forest in Germany as the much smaller Brigach and Breg rivers which join at the German town Donaueschingen, after which it is known as the Danube and flows eastwards for a distance of some 2850 km, passing through four Central and Eastern European capitals, before emptying into the Black Sea via the Danube Delta in Romania and Ukraine. Known to history as one of the long-standing frontiers of the Roman Empire, the river flows through - or forms a part of the borders of - ten countries: Germany (DL), Austria (OE), Slovakia (OM), Hungary (HA), Croatia (9A), Serbia (YU), Romania (YO), Bulgaria (LZ), Moldova (ER), and Ukraine (UR).
Danubian EU Areas List
(Updated 06.10.2009)
Croatia
9A
Osijek-Baranja County (Osječko-Baranjska županija)
CR10
9A
Vukovar-Syrmia County (Vukovarsko-Srijemska županija)
CR18
Germany
DL
Region of Freiburg
GM12
DL
Region of Lower Bavaria (Niederbayern)
GM27
DL
Region of Upper Bavaria (Oberbayern)
GM28
DL
Region of Upper Palatinate (Oberpfalz)
GM30
DL
Region of Swabia (Schwaben)
GM34
DL
Region of Tübingen
GM38
Moldova
ER5
Territory of the Former Cahul County (1998-2003)
MD02
Hungary
HA1
Győr City
HG01
HA1
Győr-Moson-Sopron County
HG02
HA2
Komárom-Esztergom County
HG09
HA3
Baranya County
HG13
HA3
Tolna County
HG17
HA4
Dunaújváros City
HG18
HA4
Fejér County
HG19
HA5
Budapest City
HG21
HA7
Pest County
HG26
HA8
Bács-Kiskun County
HG28
Bulgaria
LZ2
Province of Montana
BU18
LZ2
Province of Pleven
BU19
LZ2
Province of Rousse
BU21
LZ2
Province of Silistra
BU23
LZ2
Province of Veliko Tarnovo
BU26
LZ2
Province of Vidin
BU27
LZ2
Province of Vratsa
BU28
Austria
OE1
City of Vienna (Wien)
AU01
OE3
Federal State of Lower Austria (Niederösterreich)
AU03
OE5
Federal State of Upper Austria (Oberösterreich)
AU05
Slovakia
OM1
Bratislava Region (Bratislavský Kraj)
SK01
OM2
Trnava Region (Trnavský Kraj)
SK02
OM5
Nitra Region (Nitriansky Kraj)
SK04
Ukraine
UR5F
Region of Odessa
UR06
Romania
YO2
Caraș-Severin County
RO02
YO4
Brăila County
RO07
YO4
Constanța County
RO08
YO4
Galați County
RO09
YO4
Tulcea County
RO10
YO7
Dolj County
RO25
YO7
Mehedinți County
RO27
YO7
Olt County
RO28
YO9
Călărași County
RO37
YO9
Giurgiu County
RO39
YO9
Ialomița County
RO40
YO9
Teleorman County
RO42
Serbia
YU
City of Belgrade
SE01
YU
Braničevo District
SE03
YU
Podunavlje District
SE11
YU
Šumadija District
SE15
Vojvodina
YU7
South Bačka District (Južnobački Okrug)
VO01
YU7
South Banat District (Južnobanatski Okrug)
VO02
YU7
Srem District
VO06
YU7
West Bačka District (Zapadnobački Okrug)
VO07
DANA Bronze, DANA Silver, DANA Gold, DANA Platinum, and DANA Diamond Awards may be claimed by any licensed radio amateur, club station or DMS/SWL eligible under the EPC Awards General Rules who can produce evidence of having contacted/monitored EPC members from 30, 35, 40, 45, and 50 Danubian EU Areas respectively at the time of application on BPSK31, BPSK63, BPSK125, QPSK31, QPSK63, and/or QPSK125 modes. Credit will be given for contacts made on any of the amateur bands below 30 MHz. Each EU Area counts only once. Contacts are valid on or after 10th June 2006.