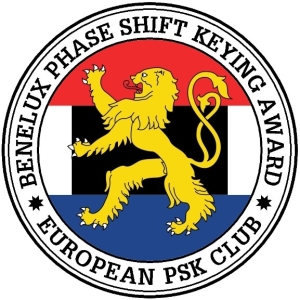 The Benelux PSK Award Series (BENELUX) was devised by the European PSK Club (EPC) on 9th April 2009. This was to sponsor a series of PSK awards for contacts with EPC members from various EU Areas of the Benelux. The Benelux is a union in Western Europe that comprises three neighbouring countries, Belgium (ON), the Netherlands (PA), and Luxembourg (LX).
EU Areas of the Benelux List
(Updated 17.09.2009)
Grand Duchy of Luxembourg

LX
District of Diekirch
LX01
LX
District of Grevenmacher
LX02
LX
District of Luxembourg
LX03

Kingdom of Belgium

ON
Province of Antwerp [Antwerpen or Anvers]
BE01
ON
Province of Walloon Brabant [Waals Brabant or Brabant Wallon]
BE02
ON
Brussels Capital-Region [Brussels Hoofdstedelijk Gewest or Région de Bruxelles-Capitale]
BE03
ON
Province of Hainaut [Henegouwen]
BE04
ON
Province of Liège [Luik]
BE05
ON
Province of Limburg [Limbourg]
BE06
ON
Province of Luxembourg [Luxemburg]
BE07
ON
Province of Namur [Namen]
BE08
ON
Province of East Flanders [Oost-Vlaanderen or Flandre Orientale]
BE09
ON
Province of Flemish Brabant [Vlaams Brabant or Brabant Flamand]
BE10
ON
Province of West Flanders [West-Vlaanderen or Flandre Occidentale]
BE11

Kingdom of the Netherlands

PA
Province of Drenthe
NL01
PA
Province of Flevoland
NL02
PA
Province of Friesland
NL03
PA
Province of Gelderland
NL04
PA
Province of Groningen
NL05
PA
Province of Limburg
NL06
PA
Province of North Brabant [Noord-Brabant]
NL07
PA
Province of North Holland [Noord-Holland]
NL08
PA
Province of Overijssel
NL09
PA
Province of Utrecht
NL10
PA
Province of Zealand [Zeeland]
NL11
PA
Province of South Holland [Zuid-Holland]
NL12
 

BENELUX III, BENELUX II, and BENELUX I awards may be claimed by any licensed radio amateur, club station or DMS/SWL eligible under the EPC Awards General Rules who can produce evidence in a form of ADIF log of having contacted/monitored EPC members from 15, 20, and 25 EU Areas of the Benelux respectively at the time of application on B(Q)PSK31, B(Q)PSK63, and B(Q)PSK125 modes. Credit will be given for contacts made on any of the amateur bands below 30 MHz. Each EU Area counts only once. Contacts are valid on or after 10th June 2006.