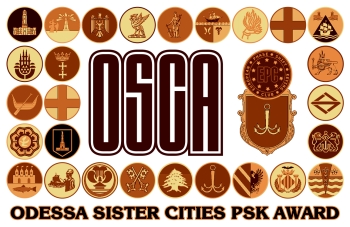 The Odessa Sister Cities PSK Award Series (OSCA) was devised by the Odessa Section (Ukraine) of the European PSK Club (EPC) on 6th April 2009. This was to sponsor a series of PSK awards for contacts with amateur radio stations from various Odessa Sister Cities (Twin Towns) throughout the World including Odessa City itself. Sister cities, also known as town twinning, is an agreement between towns, cities and even counties in geographically and politically distinct areas to promote cultural and commercial ties. Odessa City and its 26 sister cities are listed below under their official English names.
Odessa Sister Cities List
(Updated 22.09.2009)
Prefix

City Name

Sovereign State

Longitude

Latitude

EU Area

4Z
Haifa
State of Israel
32° 49′ N
34° 59′ E
N/A
5B4
Nicosia
Republic of Cyprus
35° 10′ N
33° 22′ E
N/A
9A
Split
Republic of Croatia
43° 30′ N
16° 26′ E
CR15
BY4
Qingdao
People's Republic of China
36° 05′ N
120° 20′ E
N/A
DL
Regensburg
Federal Republic of Germany
49° 01′ N
12° 05′ E
GM30
EA5
Valencia
Kingdom of Spain
39° 28′ N
00° 22′ W
SN39
EK6
Yerevan
Republic of Armenia
40° 11′ N
44° 31′ E
N/A
ER1
Chișinău1
Republic of Moldova
47° 00′ N
28° 52′ E
MD03
F
Marseille
French Republic
43° 18′ N
05° 22′ E
FR13
HA8
Szeged
Republic of Hungary
46° 15′ N
20° 08′ E
HG34
I1
Genoa
Italian Republic
44° 24′ N
08° 55′ E
IT05
JA1
Yokohama
Japan
35° 27′ N
139° 38′ E
N/A
K3
Baltimore
United States of America
39° 17′ N
76° 37′ W
N/A
LZ2
Varna
Republic of Bulgaria
43° 13′ N
27° 55′ E
BU25
M
Liverpool
United Kingdom of Great Britain and Northern Ireland
53° 24′ N
03° 00′ W
EN39
OH8
Oulu
Republic of Finland
65° 01′ N
25° 28′ E
FL14
OD5
Sidon
Republic of Lebanon
33° 33′ N
35° 24′ E
N/A
SP2
Gdańsk2
Republic of Poland
54° 22′ N
18° 38′ E
PL03
SP7
Łódź3
Republic of Poland
51° 47′ N
19° 28′ E
PL11
SU1
Alexandria
Arab Republic of Egypt
30° 02′ N
31° 13′ E
N/A
SV1
Piraeus
Hellenic Republic
37° 57′ N
23° 38′ E
GR02
TA1
Istanbul6
Republic of Turkey
41° 01′ N
28° 58′ E
ET03
UR5F
Odessa
Ukraine
46° 28′ N
30° 44′ E
UR11
VE7
Vancouver
Canada
49° 15′ N
123° 06′ W
N/A
VU2
Kolkata
Republic of India
22° 34′ N
88° 22′ E
N/A
YO4
Constanța4
Romania
44° 10′ N
28° 38′ E
RO08
YO4
Galați 5
Romania
45° 25′ N
28° 02′ E
RO09

Notes

1
«Chișinău» should be as «Chisinau» in the ADIF log.
2
« Gdańsk» should be as «Gdansk» in the ADIF log.
3
«Łódź» should be as «Lodz» in the ADIF log.
4
«Constanța» should be as «Constanta» in the ADIF log.
5
«Galați» should be as «Galati» in the ADIF log.
6
Indicated «ET03» EU Area is only for the European part of Istanbul City.
OSCA 15, OSCA 20, and OSCA 25 awards may be claimed by any EPC member (either licensed radio amateur, club station, or DMS/SWL) eligible under EPC Awards General Rules who can produce evidence in a form of ADIF log of having contacted or monitored amateur radio stations from 15, 20, and 25 cities (listed above) respectively at the time of application on B(Q)PSK31, B(Q)PSK63, and B(Q)PSK125 modes. Credit will be given for contacts made on any of the amateur bands below 30 MHz. Each city counts only once. Contacts are valid on or after 10th June 2006.
Please make sure that the «QTH» field in your ADIF log contains the contacted station's city. It must be a clear English name of the city as listed in the table above without any abbreviations or additions. This is a mandatory requirement to make able the manager's software to check your application correctly.